Community Involvement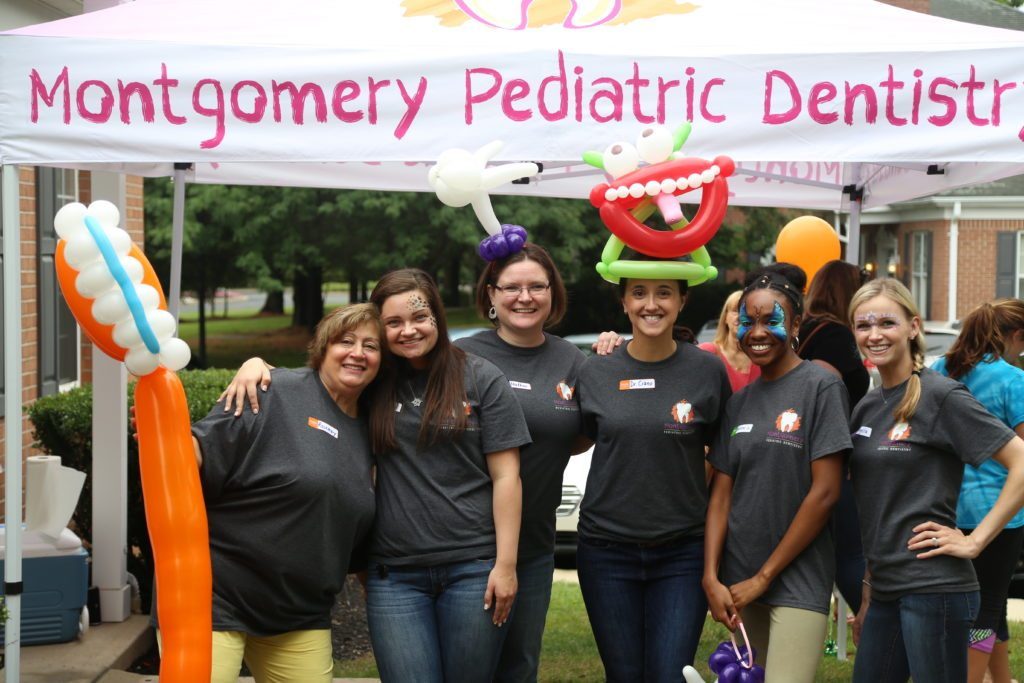 Montgomery Pediatric Dentistry is honored to serve our local community. We are eager to give back to those who have helped to make our practice what is it today!
Whether through sponsoring community events, donating to local charities, organizing food drives or providing free dental work to underserved children, we are committed to active involvement in the welfare of fellow Montgomery residents.
We'd love to share some of the great community activities we've been a part of!
---
FEBRUARY
It's that time of year again! On February 2nd, 2019, Montgomery Pediatric Dentistry will be hosting their annual Give Kids a Smile Day. Dr. Christina Ciano, Dr. Geena Russo, and all of our hygienists will be providing free dental care to children ages 12 and under. Our goal is to raise awareness for the number one childhood disease: dental decay and provide education and examinations to those who cannot otherwise afford dental treatment.
Each child will receive comprehensive dental examinations, dental cleanings, professional fluoride treatments, dental x-rays, oral health care instructions, dental extractions, sealants, and dental restorations. It is our honor to pay smile forward to a community that continues to support us for our 5  year in a row.
---
DECEMBER 2018
Every year, Montgomery Pediatric Dentistry sponsors Womanspace, a local non-profit agency supporting victims and families struggling with domestic violence and sexual assault. This December, we decided to ask all of you to help this worthy cause, too! We are now collecting donations (from the list posted below, please) at our office starting this Monday, 11/27, through Tuesday, 12/05. Please join us in brightening the holiday season for women and children in need! To learn more about Womanspace, visit their website.
NOVEMBER 2018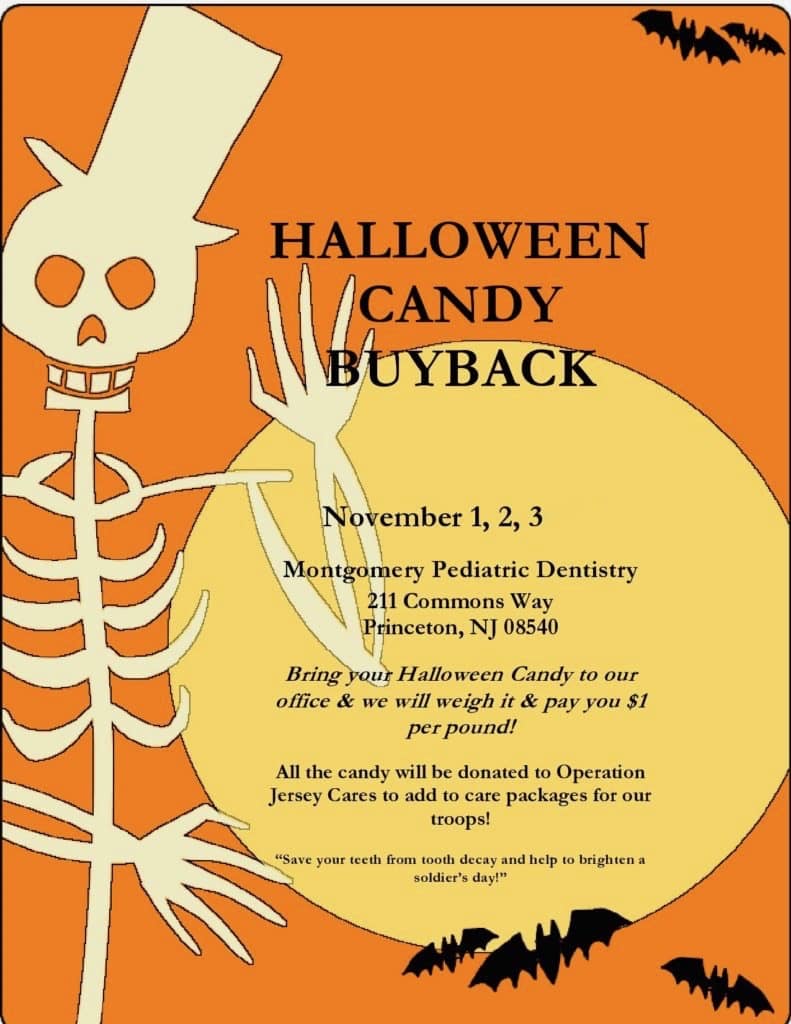 In November, we collected over 300 lbs of candy in our annual Candy Buy Back event! Our event this year benefited Operation Jersey Cares, an organization helping our troops overseas and wounded veterans. The candy we collected was donated for care packages so our service men and women could have a taste of home.

SEPTEMBER 2018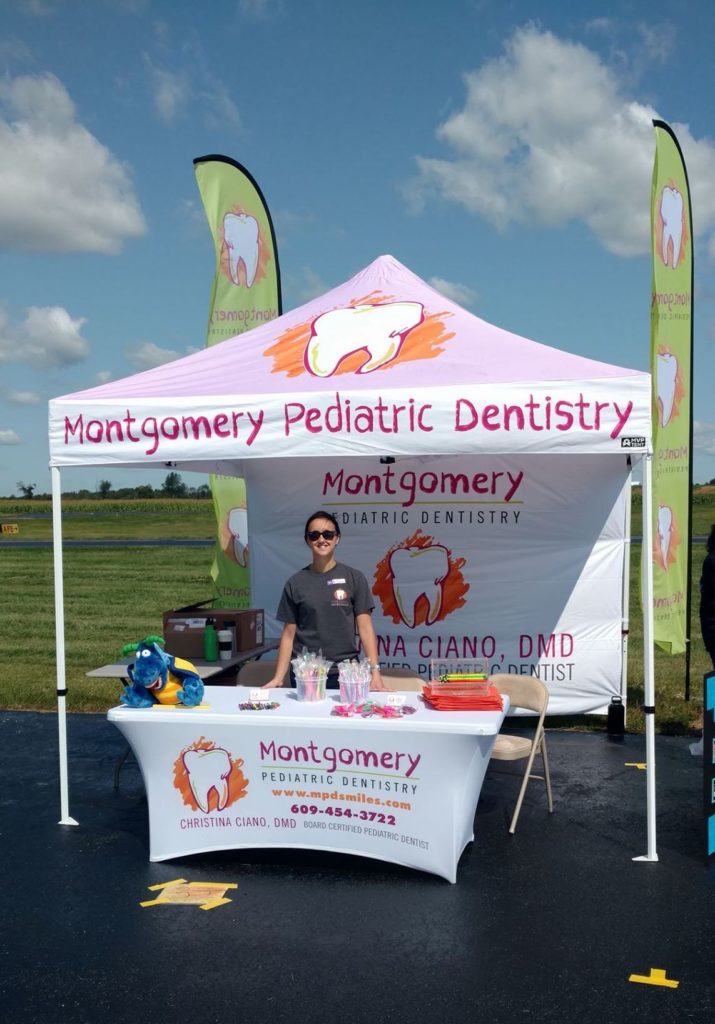 Montgomery Pediatric Dentistry is proud to have sponsored
Montgomery FunFest,
an annual day of family, food, fun, and live entertainment held at the Princeton Airport. Montgomery FunFest brings together the community at all levels, and helps promote local business and caring for our neighbors. We gave out toothbrushes and other fun prizes to little guests.
In line with our mission to help Montgomery residents thrive, we also supported the Princeton Fitness & Wellness Center's Community Health Fair. This free fair offered food, fitness and screenings—even face painting! Montgomery Pediatric Dentistry participated by teaching oral health education.

JULY 2018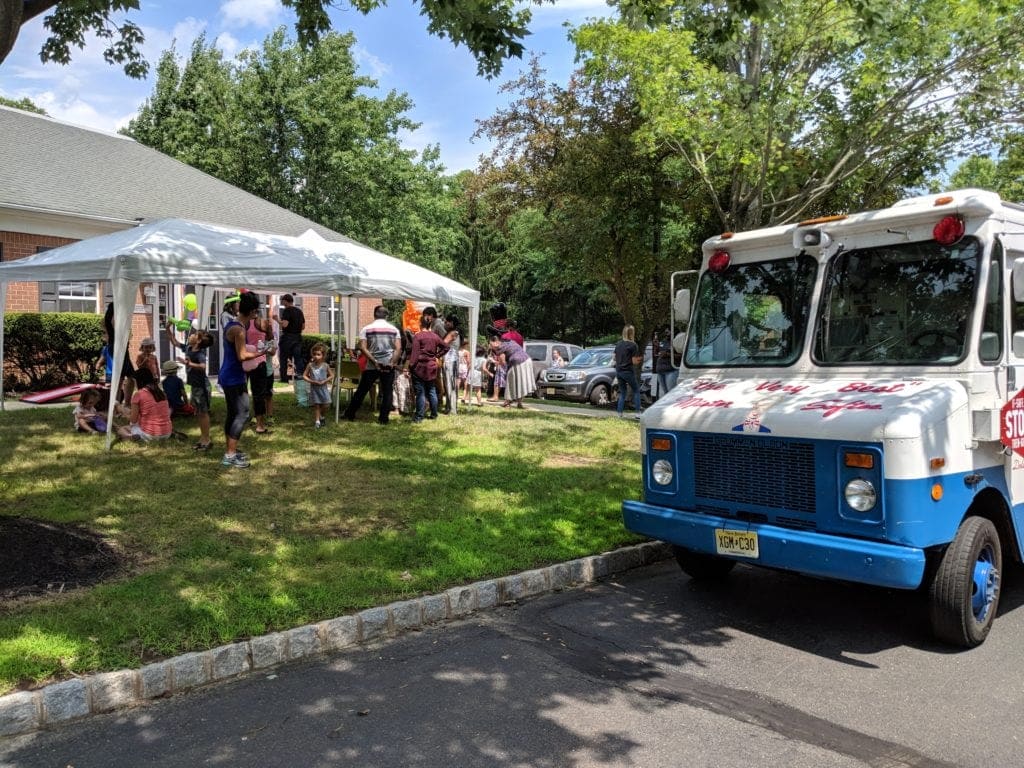 On Friday, July 27, from 1-3pm, we hosted our 3rd annual Patient Appreciation Ice Cream Social! We were happy to provide an opportunity for socializing and fun, and a way to cool down from the summer heat!
We invited the whole community to attend and join us in fun, family-friendly activities like face painting, balloon art, a photo booth and of course, ice cream from the Mr. Softee ice cream truck. We held a raffle for exciting prizes like: a Sonicare toothbrush, a gift card to a local restaurant, and an Amazon gift card! Make sure to come out and join us next year.
JUNE 2018
Montgomery Pediatric Dentistry proudly sponsored the 24th Annual
Montgomery Rodeo
! A treasured local tradition, the Montgomery Rodeo provides families with a weekend full of cowboy events and kid-friendly activities. Held at Daube Farm, it gives parents and kids an exciting up-close experience of bucking broncos, bull riding, calf roping and barrel racing. The Montgomery Rodeo also puts on a unique Special Friends Rodeo program for Special Needs children and families.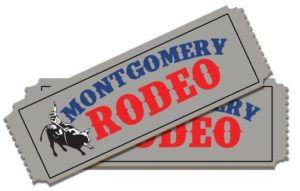 APRIL
During the month of April, Montgomery Pediatric Dentistry will be donating 5% of the proceeds of all dental sealants completed in our office to St. Jude Children's Research Hospital, a charity that is very dear to our hearts.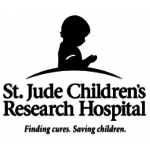 MARCH 2018
In March, Montgomery Pediatric Dentistry is proud to be sponsoring The Montgomery Township Education Foundation annual fundraising event, Casino Night! The Montgomery Township Education Foundation is an independent non-profit organization set up to support strategic programs for the benefit of Montgomery Township public school children. Their goal is to raise money for the purpose of improving our children's educational experience.


FEBRUARY 2018
Every February, Dr. Ciano and Dr. Russo visit local preschools in honor of the American Dental Association's National Children's Dental Health Month. They instruct children on brushing, flossing, and eating healthy foods for your teeth through singing songs and reading kid friendly dental books. Many of our current patients attend the schools we visit, so you may even get to see Dr. Ciano and Dr. Russo in between appointments!

In February, Montgomery Pediatric Dentistry also celebrated Give Kids a Smile Day!  The goal of Give Kids A Smile Day is to bring attention to the number one childhood disease: dental decay. Dr. Ciano, Dr. Russo, and Angela our dental hygienist, donated dental services for 25 children. These children received the following services: comprehensive dental examinations, dental cleanings, professional fluoride treatments, dental x-rays, oral healthcare instructions, dental extractions, sealants, and dental restorations. We had an amazing experience giving back to the community that has so strongly supported our practice.
JANUARY 2018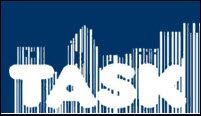 In January, Montgomery Pediatric Dentistry extended our holiday spirit by holding a month-long food drive. We asked our patients and their parents to bring some of the most needed items for The Trenton Area Soup Kitchen to our office. Our generous family of patients donated bags of instant oatmeal, canned soup and vegetables, cereal, coffee, peanut butter, pasta, salad dressing, and many more food items. In total, our combined efforts amounted to almost 75 pounds of food!
We were so excited about the donations, that we have decided to make this a yearly event!